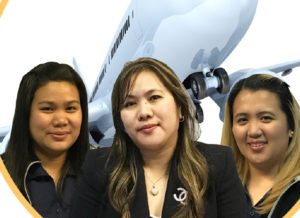 Thea and Ramil Ramilo always dreamed of starting their own business. Thea had a business airline degree and years of experience in booking and selling tickets.
The only missing piece for her was having the confidence to start the business. But with her passion and their love of travel, it was just natural for the Ramilo's to finally open Global Travel and Tours in 2008.
Dreams, however, need to be followed up with hard work. There were many facets of the business to figure out ranging from sales, managing employees, finances and budgeting, and retaining the capital margin. Due to many challenges, there were days she just wanted to give up, but through strength in God and her passion for what she does, she persisted and continue to grow the business.
After obstacle comes reward; Thea says that the most rewarding thing about running their own business is that you learn to leave your comfort zone, you develop negotiation skills, and become adept in all things business. Their future plan includes getting their own building and possibly branching out somewhere in the
west area. Her advice for blossoming entrepreneurs? Be persistent no matter what obstacles you are facing. Be positive. Believe and pray that God will lead you every
step of the way. And, love your work.
10 years serving the community