Chinnie Ramos, a culinary professional with over eight years of cooking experience under her. Take back years before that, she was your average typical Filipino daughter who grew up in a typical Filipino family home whose parents wanted her to pursue a career as a Nurse. Early spring of 2009 as she was close to graduating Sisler High School, about to apply to University of Manitoba ultimately decided not to. Not being able to stand to pursue a career that she truly didn't want and without her parents'permission, she applied for Culinary Arts program in Red River College. But prior to attending the Culinary Arts Program, she had no experience of cooking or knowledge of food other than the food she ate at home, Filipino food. She didn't know how to hold a knife, knew what the difference between pork and beef, never held raw chicken, the list was endless.She went to into the program, clueless but took it as good challenge accepted knowing she had to work hard and prove to her parents a career in cooking was doable and worth it.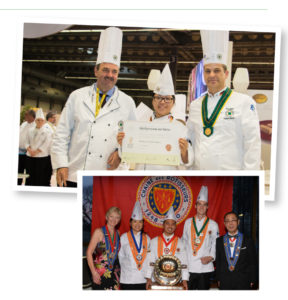 Second year in Culinary Arts program was her turning point of her career. After finishing her first practicum at Fairmont Winnipeg, one of her instructors Chef Cameron Tait CCC (Certified Chef De Cuisine), someone she has at most respect for recommended her to go Glendale Golf and Country Club for her second practicum, under the leadership of Chef John Feliciano and worked there as a day cook the summer season. After graduating with honors in Culinary Arts in 2011, she returned to the club and had worked there for six years. Working her way up, to evening dining cook to Jr Sous Chef,
to Sous Chef. Through her time there, with the help, support and coaching from Chef John Feliciano, she had participated in multiple culinary competitions.
Few competitions in which her represented the province Manitoba and Canada, she was humbled to be taught and trained by the most highly respected
Chefs in the city such as Certified Master Chef Tony Murakami, Chef Bernard Mirlycourtois, Chef Cameron Tait CCC, & Chef JD Braid CCC. To her most
memorable, challenging and rewarding competitions and achievements are:
• CCFCC Provincial Junior Culinary Challenge Manitoba February 2013
2nd Place
• Regional Jeunes Chefs Rôtisseurs Competition Manitoba March 2013 1ST Place Represented Glendale Golf & Country Club
• National Jeunes Chefs Rôtisseurs Competition Canada October 2013
2nd Place | Represented Manitoba
• IKA World Culinary Olympics (Erfurt, Germany)
October 2016 – Bronze Medal on Individual Plating,
4 Course Meal, 4 Tapas | Represented Agriculture Culinary Team Manitoba
She firmly believes culinary competitions are a must for every aspiring cooks out there. Not to be number one but dare to challenge yourself, to showcase the people in the industry how well rounded you as a cook: how well you cook, how well you use ingredients given to you, your taste, your focus, your cleanliness, your organizational skills, your time management and most importantly your creativity, as food is treated as art.
And throughout her cooking career, her colleagues often asked, "Why a career in cooking?" And it's because of these reasons: "It's the simple joy of being able to create food. Being on your feet, physically active, tossing pans, searing, grilling, tasting. The
culinary world is limitless. There's always new and innovative ways of cooking. Whether you create new flavours, textures or whether they compliment together or not, you are limitless with options. And if it doesn't work out, it becomes a great learning experience. You never stop learning. Most of all, everyone has that special bond with food and when you are able to cook food for someone and it could just as simple as a burger or a six course fine dining
experience, knowing and seeing that the person is enjoying the food that you created gives you happiness and sense of accomplishment. That's the most rewarding." \
To now, Chinnie Ramos has her focus to in getting her Red Seal Certification in cooking, to new beginnings, travels, and to one day achieve her greatest dream to open her own restaurant.
Chinnie Ramos Culinary Competition